Ive been back and forth on ear peircing. I wasnt sure if I was gonna do it now or wait. My SIL peirced my neices at 2 months, my pediatrician didnt recommend it but told us it was ok to do it if we decided. So I pondered on it for awhile and thought... well, I'd better do it now so I can be the one to clean it to make sure there is no infections because she is small enough not to fight me on it. So as scared as I was, I packed Miss Khloe up and met my mom (for moral support of course) at Claires. Most people would not recommend claires, but I got my ears peirced there. So why not. % minutes later and a sad, hungry baby later- her cute little pink daisy whit gold earrings were in her ears and she looked even more cute. If that was actually possible.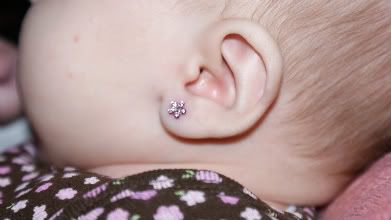 On a side note, Just thought Id share a few more pics. I mean, I just hate taking pictures of her (ya! RIGHT!)!! ;0)


Her Daddy loves her as Much as I do....




Also, hard to beleive that my 3.5 year old was wearing these when he was 4 months old. lol Here is a picture of Khloe in her brothers pajamas- now hers.




And here is a cute little picture of her feetsies. With her special slippers that our freind Mrs Lisa got for her. Thanks LISA!!!! They are so cute on her!